"SAPM!"
—ZexionTheGamer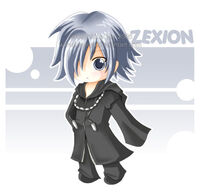 ZexionTheGamer, also known as ZTG, was a user on the Kingdom Hearts Wiki and a former member of the Kingdom Hearts Wiki IRC. When he ran off to the Twilight wiki, he changed his name to TheLunarEclipse, and kept said name when he returned to the Kingdom Hearts Wiki some time later. He is the creator of SAPM, though its memetic value came after his untimely departure. This, along with his perma-banning from #wikia-kingdomhearts, hold him in notoriety among Kingdom Hearts Wikians.
ZexionTheGamer joined the Kingdom Hearts Wiki on January 17, 2010, when he edited the Kingdom Hearts II page (it was insta-reverted by NinjaSheik, of course). Promptly, he settled down in the community and edited fairly frequently. On January 25, 2010, LegoAlchemist told ZexionTheGamer via talk-page messaging about the IRC channels, which ZTG joined immediately. On the IRC, he was notoriously annoying and spammy, which led to his banning in mid-February of that year[1]. He was allegedly un-banned, however, as he made an appearance during the Goosh Goosh Incident of March '10 (the logs of the Goosh Goosh Incident confirm that ZexionTheGamer was indeed unbanned.[2]). At an uncertain point in time, he was banned again, this time permanently.
On April 16, 2010, he changed his name to TheLunarEclipse and ran off to the Twilight Wiki, where he settled down and, on May 5, 2010, became an admin. He wasn't seen on the Kingdom Hearts Wiki until late May, due to him apparently falling into depression because of DoorToNothing[3]. LegoAlchemist had convinced him to return, and he rejoined the Kingdom Hearts Wiki as TheLunarEclipse. Though he was still banned from the IRC, he frequently returned to private message some of his friends from the old times.
Disappearance
Edit
ZexionTheGamer edited the wiki fairly frequently until late June of 2010, where all of his wiki-activity came to an abrupt halt. He made two minor edits to the Kingdom Hearts Wiki in September, then left completely. All that remained of him was a cryptic message, as follows:
"I just did one of the biggest things I've done on the internet... I am glad I did it, though" [4]
Some users pried to learn what the "biggest thing" was, but he did not respond. However, DoorToNothing has confirmed that this message was posted just after ZTG left a message on the admin's user page apologizing for any trouble ZTG had ever caused him. After majorly contributing the Twilight Wiki for a few days in late September of 2010, he again vanished. ZexionTheGamer's last known wiki-contribution was on January 3, 2011, where he edited the talk page of "Riku's Love" on the Twilight Wiki:
"Of course I'm still here :P. I've been very busy of late, however. Gigantic move (2nd biggest yet :P) in October, and Gigantic book report over November. I've missed talking to you, though :3. And I found a new favourite face :3. WBU? " [5]
Since then, ZexionTheGamer has vanished from the internet. What exactly happened to him is a mystery, though there have been rumors that he still appears on #wikia-twilightsaga, the Twilight Wiki's IRC channel. Either he left to the mysterious Real Life, or he was abducted by Slender Man. The latter is more likely.
ZexionTheGamer's notorious "SAPM!" is still coined today by the goers of the Kingdom Hearts Wiki's IRC channel. He is still held in infamy for being one of the only people to have been permanently banned from #wikia-kingdomhearts, along with loljoe.
"SAPM!"
"IT MAKES 12 YEAR OLD SICK! IT IS INAPPROPRIATE!" [6]
--ZTG, in response to posting of the "goosh goosh" video.
"Is SSC being kicked, blocked, banned, or having a strong talk?"
--same as above. lolwut.
"YOU FUCKING ASSHOLE! GO TO HELL AND ROT WITH THE DEVIL! I'M NOT RELIGIOUS SO I DON'T HAVE TO WORRY ABOUT IT! AND I DON'T GIVE A FUCK!" [7]
--said during the same "goosh goosh" conversation to CloudofDarkness.
"I am a practicer of good grammer so you should try your hardest too. " [8]
--orly?
Behind the scenes
Edit
ZexionTheGamer was apparently born in Wolverhampton, England, and lives in South Carolina. [9]
See also
Edit
References
Edit